Music Review: SaltmanKnowles - Return of the Composer
Written by
Kit O'Toole
Published December 22, 2008
http://blogcritics.org/archives/2008/12/22/024553.php
Blogcritics.org - published by Eric Olsen
Blogcritics
is an online magazine, a community of writers and readers from around the globe.
Fans of modern jazz should seek out SaltmanKnowles' newest release, Return of the Composer. The Washington, D.C.-based jazz group includes Mark Saltman (bass), William A. Knowles (piano), Lori Williams Chisholm (vocals), Jimmy "Junebug" Jackson (drums), Rob Landham (alto saxophone), and Alvin Trask (trumpet). The band cites Billy Strayhorn, Horace Silver, and Charles Mingus as major influences. This somewhat free-form type of jazz pervades their fourth release.
The group makes heavy use of vocalese throughout the album, with Williams Chisholm's voice becoming another instrument on such cuts as "Bellport," where she trades lines with the saxophonist. During the Brazilian-tinged "A Study in Purple," her voice complements the elaborate percussion. Her soulful vocals add a touch of soul on "Seeds and Deeds," while Jackson's drums and Saltman's bass provide a driving, almost funky beat.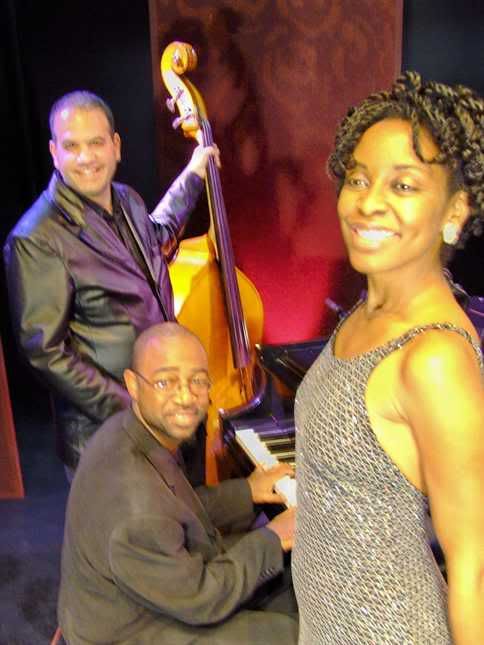 While vocalese is prominently featured, the deft instrumental skills of the band still impress. "Homeland" features an extended (and blazing fast) saxophone solo by Landham, and "Shalom and Salaam" works due to the tight syncopation of Knowles, Landham, Trask, and Saltman. Once again the saxophone and piano solos are the true standouts, their improvisation accompanying but never dominating the driving beat and melody. Trask occupies the spotlight on the midtempo "Disfavor," his muted trumpet skillfully navigating the frequent tempo fluctuations. Landham and Trask trade lines, never overshadowing the other's playing.
The lone track featuring actual lyrics, "Pain Management" serves as a welcome respite from the scatting and instrumental songs. The tune begins as a lament, suddenly launching into a ripping saxophone solo. The real star of "Pain Management," though, remains Jackson's intricate percussion. He consistently impresses with his ability to smoothly change the tempo throughout the song without any abrupt transitions.
SaltmanKnowles enjoys performing as a "cohesive unit," and Return of the Composer exemplifies this statement. The musicians complements one another, letting a player solo while the others play an accompanying melody or beat. Williams Chisholm appears very comfortable with singing vocalese, her scatting providing the perfect instrumentation or flourish for various songs. It's refreshing to hear straightforward modern jazz performed by some excellent artists, encapsulating traditional improvisation while occasionally injecting some soul and funk into the music. Any fan of modern jazz will enjoy Return of the Composer, and it will be interesting to see how SaltmanKnowles continuously evolves in the jazz genre.